University of Southern Mississippi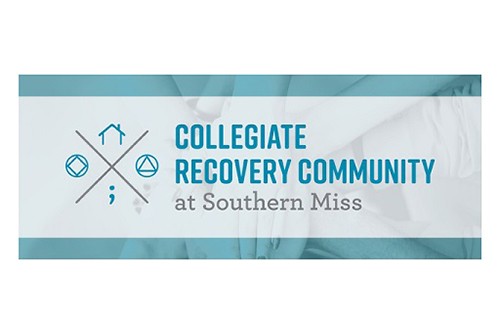 The University of Southern Mississippi's (USM) Collegiate Recovery Community (CRC)is affiliated with Student Health Services which is under the Office of Student Affairs. There is a dedicated house just off campus for CRC members called The Blue House. This space offers a safe environment for our members AND throughout the week there are three AA meetings, two NA meetings, and a CRC member support group housed at The Blue House. CRC members have 24-hour access to The Blue House for THE PURPOSE of studying AND printing materials, or SIMPLY for a place to relax away from the everyday chaos of college life. We also have recovery tailgate parties, holiday potlucks, and seminars at The Blue House. Our membership consists of 10-15 members. Our students in the program are enrolled at least 3 semester hours, have documented completion of treatment and/or support group with a sponsor, demonstrate respect for self and other, active participate in supportive recovery and engage in activities and service projects all of which make up our the successes of our program.
We currently have a coordinator who is the Health Educator at student health services and a Graduate Assistant dedicated to the USM CRC. Our student organization affiliated with the CRC is called Southern Students about Service (SSAS). This organization is made up of students in recovery as well as allies of people in recovery, committed to offering service to USM and the community of Hattiesburg, MS.
Check out these recently added programs!
The Association of Recovery in Higher Education (ARHE) is the only association exclusively representing collegiate recovery programs (CRPs) and collegiate recovery communities (CRCs), the faculty and staff who support them, and the students who represent them. ARHE provides the education, resources, and community connection needed to help change the trajectory of recovering student's lives. We are a network of professionals, administrators, faculty, staff, students, parents and policy makers.

© 2019 Association of Recovery in Higher Education, All Rights Reserved.
Mailing Address:
P.O. Box 1541
Kennesaw, GA 30156
Phone Number:
404.710.2803
COLLEGIATE RECOVERY PROGRAM
A collegiate recovery program (CRP) is a College or University-provided, supportive environment within the campus culture that reinforces the decision to engage in a lifestyle of recovery from substance use. It is designed to provide an educational opportunity alongside recovery support to ensure that students do not have to sacrifice one for the other.
READ THE CURRENT ISSUE OF RECOVERY CAMPUS MAGAZINE