April 15th, 2021
Celebrating 11 Years of ARHE
Join us on April 15th for National Collegiate Recovery Day! Each year on April 15th we celebrate the founding of the Association of Recovery in Higher Education (ARHE) back in 2010. We have a variety of virtual celebrations and programming to unite the collegiate recovery field:
#WearPurple on April 15th to support Collegiate Recovery! Showcase your photos and selfies on social media using the hashtags #WearPurple and #CollegiateRecovery Day. You can also print or use these signs to share why you support collegiate recovery: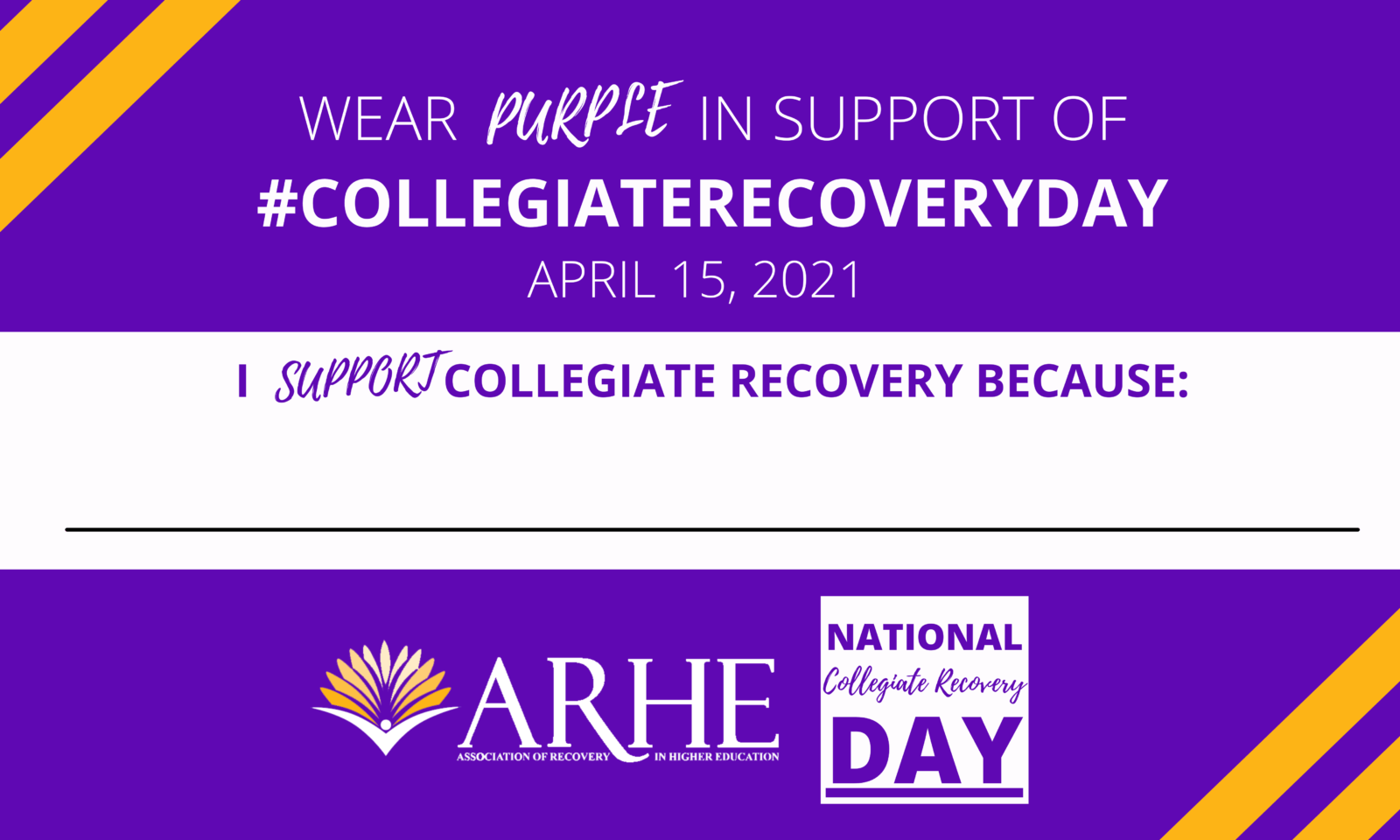 Collegiate Recovery Day #11for11 Fellowship Fundraiser!
All ARHE events during Collegiate Recovery Day will take place in the ARHE Common Room. ARHE Executive Director Tim Rabolt will be in the Common Room from 12:00 PM ET to 9:00 PM ET to answer any questions throughout the day!
12:00 PM ET: #CollegiateRecoveryChat on Twitter
Join us on Twitter and follow along the hashtag #CollegiateRecoveryChat for a nationwide discussion on the field, students in recovery, and Collegiate Recovery Day overall! We will also be hosting the chat live in the ARHE Common Room!
2:00 PM ET: ARHE Past President Interview Series with Teresa Johnston 
Teresa Johnston was the first ARHE Board President and stays involved to this day. Join us in the ARHE Common Room for a casual conversation with Teresa about her work at Kennesaw State University, how the field has grown, and where she sees the profession going.
4:15 PM ET: Collegiate Recovery Hour of Power- Moderated by Keith Murphy and Amy Boyd Austin: Featuring Student Sharing and Stories
Join us at 4:15 on 4/15 for the first ever Hour of Power event! Taking place in the ARHE Common Room, this event focuses on the power of student sharing and students' recovery stories. All are welcome! View the poster here.
7:30 PM ET: All-Recovery Speaker Meeting
We cap off Collegiate Recovery Day with an All-Recovery Speaker Meeting featuring a student, alumni, and staff speaker. Join us in the ARHE Common Room as we wrap up the 2021 Collegiate Recovery Day!